A Weekly Press from early 1918 featured a group of seven young men from Alderney, who were all Privates in the RGLI, and all took part in the battle of Cambrai in late 1917. The service numbers of these young men run from 1310 to 1316, indicating that they joined up in the same batch.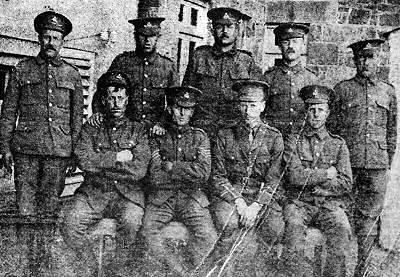 Seated in the centre of the group are Sgt Clifford Robin and Lieutenant E D Davey, about whom nothing is known apart from the fact that they were demobilised in 1919.
Starting at the left hand side of the back row, 1314 Pte Walter Clarke survived Cambrai only to be taken Prisoner of War on 13 April 1918. He returned to England on 2 December of the same year. Next to him stands 1311 Pte William Benwell, who was killed in action at Cambrai on 1 December 1917, and has no known grave. He is commemorated on the Cambrai memorial at Louverval. Privates 1312 Arthur and 1313 Alfred John Caplain were both wounded at Cambrai but survived the war, returning to England for demobilisation in 1919. On the far right, 1310 Pte Thomas Allen died in hospital at Le Havre aged 37, on 13 January 1918, and is buried there at St Marie Cemetery.
At the far left of the front row is 1315 Pte Batiste Cosheril, who was taken prisoner of war at Cambrai on 12 December 1917. His brother, 1316 Pte Emile Cosheril was invalided to England on 7 December 1917.
Again the fates of this group are representative of the RGLI as a whole, where such a high proportion of those who enlisted were either killed in action, wounded, gassed or taken prisoner of war that after April 1918 it could no longer exist as a fighting force.
© 2006 Liz Walton