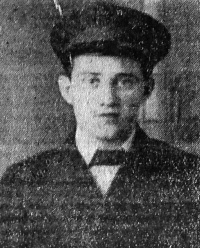 Officer's Steward 3rd Class George Auguste Dumond
Royal Navy. H.M.S. "Ghurka"
08/02/1917


1914-15 Star
Son of Alphonse Francois and Celestine Dumond, of 22, Seale St , St Helier, Jersey. Native of St Peter Port, Guernsey. Brother of Private Alphonse Dumond who also fell when 20 years of age. Prior to enlisting he was an apprentice to Mr Warr of Bordage and subsequently as a blacksmith at St Sampson's.
Drowned after his ship (destroyer) was mined in the English Channel, 4 miles S.E. of Dungeness buoy, aged 20 years.
NEWS ITEM in Jersey Evening Post of Monday 12 February 1917
Roll of Honour. The official news was received here yesterday that George Dumont, an officers steward serving on a destroyer which was sunk by a mine in the Channel last week, had lost his life in the disaster. George Dumont was the son of Mr & Mrs A Dumont of Seale Street and was an old boy of the Home for Boys. He was 20 and had been in the Navy for 18 months. This is the second loss the family have sustained during the war, the eldest son having been killed during the retreat from Mons. The sympathy of all our readers we feel sure is extended to the parents in their sorrow, the deceased having been a most dutiful and loyal son.