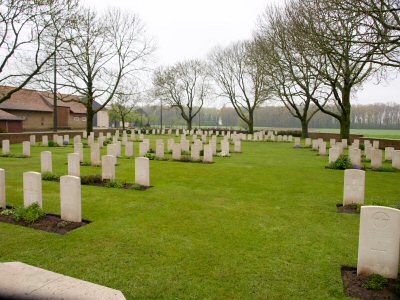 Elzenwalle Brasserie Cemetery, Belgium
Son of Colonel and Mrs. W. Finlay. Husband of Beatrice Maude Farmar Finlay, of "San Stefano," Mannamead, Plymouth.
Elizabeth College Guernsey, no.3012
Killed in action, aged 27 years
Commemorated on St Peters Parish Memorial, Jersey
NEWS ITEM in Jersey Evening Post of Friday 9 November 1917
Roll of Honour. It is with deep regret that we have to announce that Captain George Malcolm Finlay of the Hampshire Regiment, younger son of Lieutenant Colonel W Finlay RAMC of St Peters has been killed in action. The officer, who was 26, was educated at Elizabeth College, Guernsey and he subsequently passed through Sandhurst Military College and eventually was gazetted as 2nd Lieutenant in the Leinster Regiment. After serving for some time with that Regiment he resigned his commission but on the outbreak of war he at once placed his services at the disposal of the War Office and was given a commission in the Hampshire Regiment, and he has been at the Front during practically the whole of the intervening period. The sad news came to Colonel & Mrs Finlay last evening through a telegram from the War Office, which simply stated that he had been killed in action on 5 November but no details of any kind were given, but doubtless these will follow in due course. The very sincere sympathy of all will, we feel sure, be extended to Colonel & Mrs Finlay in their bereavement.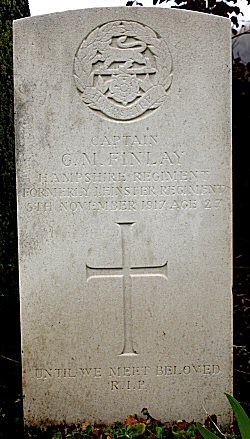 Captain George Malcome Finlay
14th Bn. Hampshire Regiment (formerly 1st Bn. Leinster Regiment)
05/11/1917
Notice of Death appears in Jersey Evening Post of Friday 9 November 1917