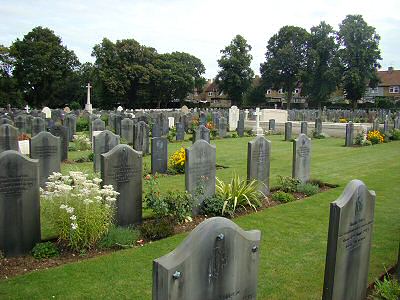 Gillingham (Woodlands) Cemetery, Kent
Son of the late Arthur Gale & Mary Gale, 7 East Cottage, St Aubin's Road, Jersey.
Died aged 40 years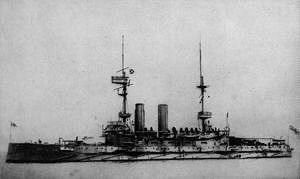 H.M.S.Bulwark
VICTIM OF THE BULWARK DISASTER
On the 26th November 1914 while loading ammunition at Sheerness, she was destroyed by a huge explosion, probably caused by black powder charges being mishandled, only 12 men survived.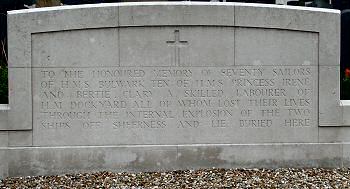 H.M.S. Bulwark Memorial, Gillingham (Woodlands) Cemetery.
Commemorated on:
St Lawrence Parish Memorial, Jersey
and on Aquila Road Methodist Church Memorial, Jersey
Commonwealth War Graves Commission Record
NEWS ITEM in Jersey Evening Post of Wednesday 2 December 1914
The Bulwark Disaster - Jerseyman amongst the Twelve Survivors. Among the 12 men saved after the Bulwark disaster was Able Seaman James John Gale, son of the late Mr Arthur Gale of Windsor Road. The poor fellow, who was called back to the Colours when war broke out, now lies in Chatham Hospital badly burned on the left side of the face and with a compound fracture of the right leg. He is we are glad to say progressing as satisfactorily as can be expected in the circumstances and must be considered exceedingly fortunate to be alive at all. Mr Gale was one of the crew of a cutter which was wrecked some time ago off the English coast and on that occasion also he escaped death by the narrowest margin.
NEWS ITEM in Jersey Evening Post of Friday 11 December 1914
Our Wounded in the English Hospitals. Mr J D Hamon of Covent Garden, who gives all the time he can spare to the visiting of Jerseymen lying wounded in English hospitals, writes to me as follows "I went yesterday to Chatham to see J J Gale, saved from the Bulwark disaster. I found him as well as could be expected, his face, ears and hands are shockingly burned but pain has greatly decreased and he is keeping his spirits up wonderfully under the circumstances. His mother has come up to Chatham and sees him frequently."
NEWS ITEM in Jersey Evening Post of Wednesday 13 January 1915
Jerseyman in Chatham Hospital - Three Operations in a Month. Mr J D Hamon of Covent Garden writes "I am sorry to say that Gale who was so badly injured in the Bulwark disaster and has since been lying in the Royal Naval Hospital at Chatham is very poorly. He has had three operations since he came here, the last one on Friday, and the poor chap seems done up. As the London Channel Island Society does not seem to interest itself in these poor fellows are there any warm hearted Jerseymen in the Island who would send their wounded fellow countrymen a little fruit sometimes, it would be very much appreciated".
NEWS ITEM in Jersey Evening Post of Tuesday 19 January 1915
Death of Able Seaman James J Gale - Another Victim of the Bulwark Disaster. We regret to learn that Able Seaman Gale, who was one of the few rescued from HMS Bulwark when she was accidentally blown up off Sheerness, passed away yesterday morning at Chatham Hospital where he had been since the unfortunate occurrence. Hopes were at first entertained that he would survive his terrible injuries but complications set in and though everything possible was done by the doctors and every care and attention given him, all proved unavailing. To his widowed mother and the other members of his family we offer our sincere sympathy.
NEWS ITEM in Jersey Evening Post of Wednesday 20 January 1915
The Death of Able Seaman Gale. We received the following letter from Mr J D Hamon this morning. "I am so sorry and grieved to say I received a letter this morning from Mrs Gale telling me her son died yesterday. He will be buried tomorrow at 2pm with full Naval Honours and I shall try and leave my business and go to Chatham for the funeral. I am sending a wreath. 19 January 1915". We had received a telegram from Mr Hamon yesterday sent after the despatch of this letter.