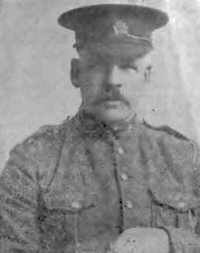 Corporal Alfred William Hannis
2nd Tram Coy., Canadian Engineers (formerly 51st King's Own Yorkshire Light Infantry)
12/07/1921
Born in Worcestershire. The son of John and Harriet Hannis. Husband of Louisa Alice Hannis of St. Andrew's Place, St. Andrew's, Guernsey. Ex- 51st King's Own Light Infantry. Enlisted at Vernon, B.C. 30/07/1915. They had six children. His son Arthur John Hannis served in the Royal Irish Regiment.
Died aged 48 years.
Commonwealth War Graves Commission Record
Recent research has shown that Corporal Hannis is buried in this cemetery. In April 2016 the Commission placed a headstone to mark his grave. Please note that this casualty is currently commemorated by the Commission on Panel 10 of the Brookwood (United Kingdom 1914-1918) Memorial; his name will be removed when the appropriate panel is next replaced.