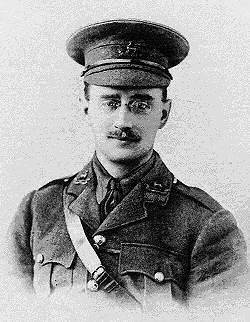 Captain Arthur Addenbrooke, MiD
14th Battalion. Royal Warwickshire Regiment
05/10/1916


1914-15 Star
Born at Kidderminster, Worcs. Son of Arthur & Marianna Addenbrooke
Died of wounds, aged 33 years.
Old Victorian/Master at Victoria College, Jersey
In the early months of the war he was given a captaincy in the 14th (1st Birmingham) Battalion of The Royal Warwickshire Regiment. He went out to France in November 1915, and was moved up to the front for the Somme offensive of 1916. It was on 3rd September, 1916, in the taking of Falfemont Farm, which had to be captured at any cost, that he sustained the wounds from which he died. Two platoons of his company had already been mown down in no man's land when Addenbrooke, gathering the rest of his men together, led a rush across the 350 yards of distance continuously swept by machine-gun fire. Only a few got there, but the position was carried.
Addenbrooke himself fell wounded in both legs close to the enemy's trench. In spite of a smashed ankle he managed to crawl over the parapet and lend a hand in clearing the dug-outs, himself landing a bomb fairly on a machine-gun which was causing trouble.
For this gallantry he received mention in Sir Douglas Haig's despatch published in The Times of 4th January, 1917.