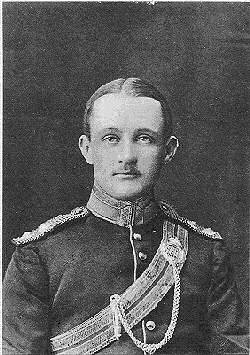 Lieutenant-Colonel Harry Allardice
13th Battalion, Northumberland Fusiliers
01/07/1916


1914-15 Star
Harry Allardice was born at Mylemoney, Mysore, on 30th April, 1886, and was the fourth son of WA Allardice. Entering College in January, 1898, he got into the Football XV at the age of 14, and was in it for three years, 1900, 1901, and 1902. His last year, 1903, was his only year in the Cricket XI. In the same year he passed 14th into Sandhurst, and was gazetted to the Indian Army in 1905.
In 1907 he became Lieutenant in the 36th Jacob's Horse, in which regiment he was Captain and Adjutant at the outbreak of the war. Later he served with The Royal West Surreys as temporary Major.
He was killed on 1st July, 1916, in the advance on the Somme while commanding the 13th Battalion, The Northumberland Fusiliers.

Extracted from:
VICTORIA COLLEGE, JERSEY - THE GREAT WAR BOOK OF REMEMBRANCE
Brother of Captain Colin McDiamid Allardice