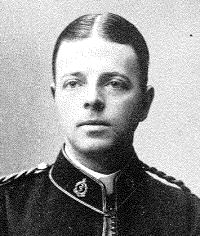 Second Lieutenant Adolphe Barbier Amy
9th Battalion, Royal Irish Rifles
19/09/1916
Eldest son of Adolphus & Louisa Amy (nee Le Petevin dit Le Roux) of St Clements Road, Jersey. Educated at Victoria College
Joined the Jersey branch of London City & Midland Bank in 1900.

Killed in action at Messines, aged 32 years.
NEWS ITEM in Jersey Evening Post of Saturday 8 September 1917
It will be remembered that some time since 2nd Lieutenant A B Amy of 9th Battalion Royal Irish Rifles was reported missing and that after a period extending over several months he w as presumed by the War Office to be dead. Actual proof of death had, however, been lacking until a few days ago when the following letter was received by the widow from the Adjutant of the Battalion. It reads "Dear Mrs Amy, It is my sad duty to let you know that news has at last been heard of your husband. A letter from an Australian officer, Lieutenant Vallence, received by me yesterday states that while clearing the battlefield after the Messines battle he found the body of a British officer north west of Messines and on the left wrist was an identity disc bearing your husband's name and Regiment. The remains were buried on the old No Mans Land near to which Amy did his last unfortunate patrol, the exact spot will be notified to you by the Graves Registration Committee in due course. I am afraid there is now no doubt that you husband is dead; he was probably killed by a German bomb whilst on patrol and his body carried into the German lines and buried. The bombardment by our Artillery prior to the assault on 7 June was so violent that he might easily have been disinterred, which would account for his body being recognisable after being so long dead. All that remains is for me to offer my most heartfelt sympathy and that of all the other officers of the 9th who were here last year and knew your husband's sterling worth".