Shipwight 1st Class William Monamy Amy
Royal Navy. H.M.S.Hampshire
05/06/1916


1915-15 Star
Son of the late Thomas Amy, of Grouville, Jersey. Husband of Mabel Elizabeth Amy, of 17, Telegraph Place, Southsea, Portsmouth.
Killed in action aged, 42 years
Notice of Death appears in Jersey Evening Post of Tuesday 20 June 1916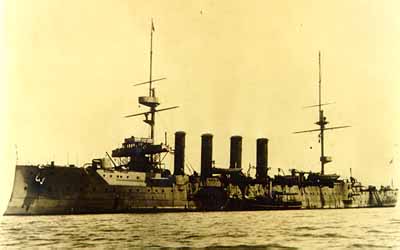 H.M.S.Hampshire
Hampshire fought at the battle of Jutland on 31 May 1916. Immediately after the battle she was directed to carry Lord Kitchener from Scapa Flow on a diplomatic mission to Russia. Sailing for Archangel in a gale she struck a mine at around 19:40 on 5 June 1916 off Mainland, Orkney between Brough of Birsay and Marwick Head. The ship sank very rapidly. Kitchener, his staff and most of the crew perished; only twelve men survived. The mine is believed to have been one of those laid by the submarine U-75 on 23 May.