Bailleul Communal Cemetery & Extension
NEWS ITEM in Jersey Evening Post of Monday 18 September 1916

Another Casualty in the Royal Irish Rifles. Rifleman A H Bailey is in hospital suffering from shock having taken part in the recent big push. We wish the gallant lad a speedy recovery.
NEWS ITEM in Jersey Evening Post of Saturday 26 May 1917

Jersey Rifleman Dangerously Wounded. Mrs E Bailey of 3 Byron Lane has received official notification by telegram from the Record Office that Rifleman A H Bailey was admitted to 2nd Casualty Clearing Station in France on 23 May dangerously ill with gun shot wounds in the neck. Permission to visit him cannot be granted. We trust to shortly hear more favourable news.
NEWS ITEM in Jersey Evening Post of Friday 1 June 1917

Roll of Honour. A few days ago we stated that a telegram had been received from the Record Office stating that Rifleman Arthur Herbert Bailey of the Jersey Company Royal Irish Rifles had received severe gun shot wounds in the neck on 23 May and we now regret to learn that the Rifleman died of his injuries at 2nd Casualty Clearing Station on 26 May. The late soldier was in his 22nd year and previous to joining the Jersey Company was employed by Mr T L de Faye. Whilst in France during the last few months he, by a curious coincidence, practically daily met another brother who was serving in the Royal Artillery, and the latter will doubtless later be able to send further particulars as to how his brother met his death. The late Rifleman was of a cheerful disposition and held in a very high regard by the officers and men of his Battalion, he having proved himself to be a most efficient soldier. We tender the bereaved family our sincere sympathy.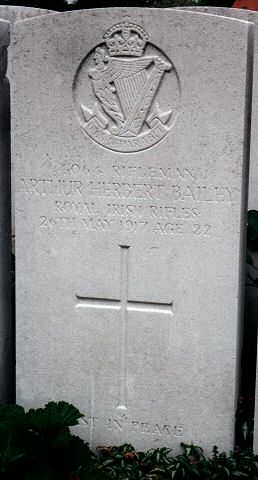 Pictures courtesy of Mike & Rosemarie Thomas