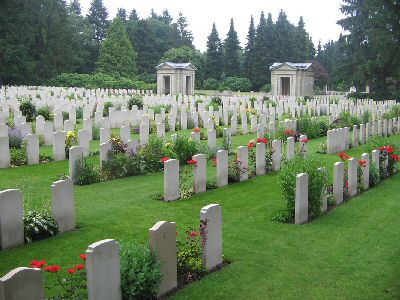 Hamburg Cemetery, Germany

Commemorated on Old Boys of St James' Company Boys Brigade Memorial
NEWS ITEM in Jersey Evening Post of Wednesday 29 August 1917
Roll of Honour. More of the gallant members of the original little Jersey Company Royal Irish Rifles have been called upon to make the supreme sacrifice. One of these, Rifleman E C Baillie, son of Mr & Mrs Baillie of 17 New St James' Place was formerly employed at Boots Ltd. He was 22 and was well known and highly respected locally. His parents have received a letter from a comrade Lance Corporal Drouin and also the following from Lieutenant C A Ogier, Officer Commanding
"BEF France. 23 August 1917. Dear Mr Baillie, I very much regret having to inform you of the death of your son, Rifleman E C Baillie, who was killed in action on 16 August 1917. I tend to you the deepest and most heartfelt sympathy of all the officers, NCOs and men of my Company and can assure you he will be missed by all who knew him as he always had a kind word for all who came into contact with him. I had known your son for the last 2 years as he was one of the original Jersey Company and I can assure you that I always admired and appreciated all the work he was called upon to do. He was a good soldier, always doing his work in a smart manner, also doing it very efficiently. You have one consolation and I am sure you feel proud that you son lost his life on the battlefield. May God assist you to bear your loss bravely. I remain truly yours C A Ogier, Lieutenant OC D Company 7th RIR".
We tender the parents, who have two other sons serving, our heartfelt sympathy.
NEWS ITEM in Jersey Evening Post of Monday 15 October 1917
The Dead Return - Rifleman Officially Reported Killed Writes Home from Germany. One of those startling incidents so favoured by novelists, but which so very rarely occur in real life, has taken place in our midst this weekend. Towards the close of August Mr Baillie of New St James' Place received a letter from Captain Ogier of the Jersey Company Royal Irish Rifles stating that his son, Rifleman E C Baillie, had been instantaneously killed in action on the night of 16 August. This was corroborated by subsequent letters from comrades and when the confirming War Office communication arrived shortly afterwards the family naturally were not surprised. A few days ago a Jersey Rifleman on leave visited the father and gave details of how the son met his death on a raiding expedition and handed back several postcards found on the battle field belonging to Baillie, these having apparently dropped out of his pocket when the Germans were adopting their usual plan of searching the clothing of the fallen. Now comes the startling denouement, for on Saturday Mr Baillie was surprised to receive a letter bearing the postmark of Hanover and his pleasure can be better imagined than described when we state that the first words he saw were undoubtedly in his son's writing. This was dated 11 September and went on to state that the writer was getting better and hoped that the previous communication had been received, this was undoubtedly stopped by the German censor. The son however finished here and an Australian soldier continued the letter stating that Baillie's eyes were so painful that he could not continue, but that he had had a successful operation and was progressing favourably. The family' grief is now naturally turned to delight and we sincerely hope that the next letter will give even more favourable news. From what we can gather, on the night of 16 August the Rifleman was seen to be hit in the head and fall and his comrades, on examination, presumed he was dead. When discovered by the Germans he must have recovered consciousness and was removed to a hospital in Germany for treatment.