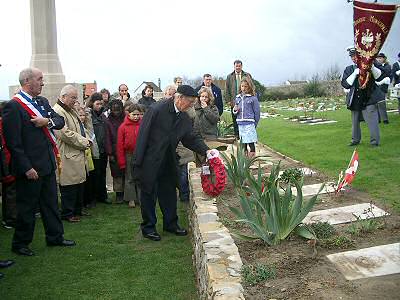 Wimereux Communal Cemetery, Pas de Calais
Son of Robert P & Ann L Bakes of St Helier, Jersey
Died at the 14th Stationary Hospital in Boulogne of enteric fever, aged 26 years.
Commemorated on Halkett Place Primary School Memorial
and on memorial widow in Gouray Church
Notice of Death appears in Jersey Evening Post of Wednesday 4 August 1915
NEWS ITEM in Jersey Evening Post of Friday 13 November 1914
Interesting Letter from the Front. Trumpeter S Bakes of the 52nd Battery Royal Field Artillery writing home says "Our Battery has suffered heavily. We retired from Mons without any casualties until a stand was made at Le Cateau then we lost our Major, Captain and Lieutenant and about 36 men killed and wounded, which is a large number for a Battery, also all our guns. The fight was terrible and I shall never forget it. We got enfiladed fire but the gunners never flinched; it was impossible to do any more for we were hopelessly outnumbered. After we lost our guns we were made into mounted infantry which was rather exciting work, but we have now got new guns and are hoping to soon have our revenge, though nobody was to blame for the loss of our guns. It is terrible to see the people homeless and we all pray that it will soon be over. Must close now as paper is short."

Commonwealth War Graves Commission Record