Able Seaman Henry John Barter
Royal Navy. HM Submarine E15
11/05/1916


1914-15 Star
Son of Mr & Mrs Henry John Barter of Bellozanne Farm, Jersey.
Accidentally drowned whilst a Prisoner of War, aged 28 years.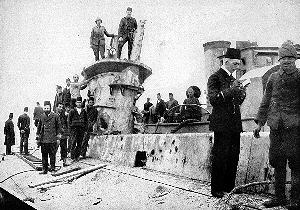 HM Submarine E15 following capture
NEWS ITEM in Jersey Evening Post of Thursday 17 August 1916
The Late F Igo and Harry Barter. Letter to The Editor "Sir, I was very pleased to receive the Jersey Weekly Post dated 5 August after leaving the trenches, but sorry indeed to read the sad news of Fred Igo and Harry Barter, both having been school chums with me under Mr Gavey. Please be good enough to extend my sympathies through the medium of your paper to all their friends and relatives. Had I the time to spare I would give an account of life in this the greatest battle yet in progress, especially the part of the line that we have just left, which has been described in one paper as the hottest part of the line. We have left a lot of the boys there who have made the supreme sacrifice with a good heart. Jersey can be proud of the part that her boys played in this war and can always rely on them ever willing to fill the gaps made by those who have done their bit. May God grant that this war will soon come to a victorious end and that we may return to our homes and pleasures. Thanking you very much for your kindness.
Yours truly,
CYRIL PELLUET,
92nd Royal Fusiliers attached 99th Machine Gun Corps, France.
10.8.16."

Commonwealth War Graves Commission Record