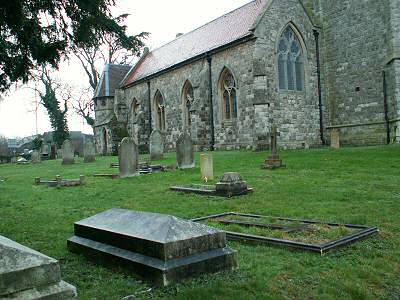 Widford (St Mary) Churchyard, Essex
Born at Jersey. Son of John & Eliza Bartlett of Gloucester Road, St Helier.
Died at Fulham Military Hospital, Hammersmith, of wounds received at the Front on 9 May 1915, aged 23 years.
NEWS ITEM in Jersey Evening Post of Wednesday 9 June 1915
Jerseyman Badly Wounded - Right Arm Amputated. Mr Fred Bartlett, who is employed by Mr Mauger the plumber has, we regret to learn, received news that his brother, Private Frank W Bartlett of the Royal Sussex Territorials, has had his right arm amputated. Mr Bartlett who was years ago in the employ of Messrs R B Colley and Co proceeded to Hastings where he joined the "Terriers". On the declaration of war the Battalion was mobilised and proceed first to Dover and later to the Tower of London, from whence they eventually proceeded to the Front. Only weeks ago news was received by the family that he was lying in Hammersmith Hospital, having been badly wounded by shrapnel in the arm and shot through a leg. It was hoped that with careful nursing the brave lad would recover, but despite all that medical skill could suggest, it was found necessary to amputate the limb; this was done on Sunday week last. Though we cannot help expressing regret that such a serious operation has been deemed necessary, we can only express the hope that he will soon recover sufficiently to allow him to return to Jersey.