Philosophe British Cemetery, Mazingarbe, near Loos.
NEWS ITEM in Jersey Evening Post of Thursday 10 August 1916
Roll of Honour. Much sympathy will be felt for Mrs Baudains (nee Violet L Tostevin) of 66 Great Union Road who, yesterday afternoon, received a letter from the Chaplain of the 1st Infantry Brigade stating that her husband, Lance Corporal Albert M Baudains of the 21st Middlesex Regiment, had made the supreme sacrifice for his King and Country. Bert Baudains, as he was generally known, had been employed at Jupes and Tregears Stores and had a large circle of friends in the Island who will hear of his decease with regret. He was the son of Mr & Mrs P Baudains of Valley Farm, Mont a l'Abbe and was in his 28th year. He formerly served in A Company of the Town Battalion and enlisted at the close of 1915 in the 21st Middlesex Regiment, in which a large number of Jerseymen are now serving. The Chaplain writes "Dear Mrs Baudains, It is with the greatest sorrow that I send you word of the death of your husband. We have been holding a most difficult piece of the Front lately and unfortunately a number have lost their lives. Notwithstanding this the men have shown a wonderful and brave spirit and we mourn for those who have so bravely laid down their lives in defence of dear ones at home. It is a great sacrifice but we feel sure that good must eventually come from their noble sacrifice. We mourn a brave comrade and pray that God may bless and comfort you in your great sorrow and provide for your needs. He has been buried in a small British cemetery out here and a cross has been erected to his memory by the Regiment he served so nobly and faithfully.
I am yours sincerely, J CALDERBANK, Chaplain 21st Infantry Brigade". To the widow who has one child and the other members of the family we offer our sincere sympathy.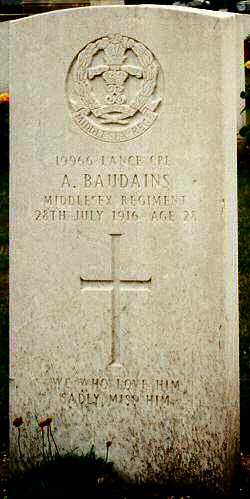 Lance Corporal Albert (Bert) Moses Baudains
21st Battalion, Middlesex Regiment
28/07/1916

Son of Phillip and Lizzie Baudains, of Jersey. Husband of Violet L. Tostevin (formerly Baudains), of 68, Cranbury Avenue, Southampton.

Killed in action, aged 28 years.
Commemorated on Grouville Parish Memorial, Jersey
Sion Methodist Church Sunday School Memorial, Jersey
and on Arras Memorial
Notice of Death appears in Jersey Evening Post of Friday 18 August 1916