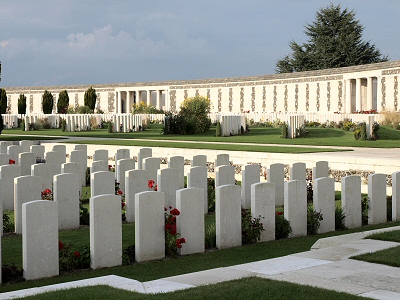 Tyne Cot Memorial & Cemetery, Belgium
Son of Mrs Elizabeth Baxter of Ann Street, St Helier, Jersey.
Killed in action at Frezenberg, aged 26 years.
Notice of Death appears in Jersey Evening Post of Saturday 1 September 1917

Commemorated on Old Boys of St James' Company Boys Brigade Memorial
Commonwealth War Graves Commission Record

Private Francis John Baxter
7th Battalion, Royal Irish Rifles (Jersey Overseas Contingent)
16/08/1917


1914-15 Star
NEWS ITEM in Jersey Evening Post of Wednesday 29 August 1917
Roll of Honour. The many local friends of Sergeant Frank Baxter of the Jersey Company Royal Irish Rifles will regret to hear that he has made the great sacrifice for King and Country. This soldier was an Old St James' Boy and one of the first volunteers for the Jersey Company. He was formerly employed at Messrs Orange & Co and was highly respected on all sides. His mother, who resides at 36 Ann Street, was informed of her loss by Lieutenant Ogier Officer Commanding D Company Royal Irish Rifles who writes as follows "BEF France. 23 August 1917. Dear Mrs Baxter, I very much regret having to inform you of the death of your son, Sergeant F Baxter, who was killed in action on 16 August. Accept my deepest and most heartfelt sympathy on your very great loss of a son who willingly and gallantly gave his life for his country. Although great is your loss you must feel proud that he died a hero's death. Your son had been in my platoon ever since the formation of the Jersey Company in February 1915 and for the last 12 months has been one of the Section Commanders of the platoon. He was an excellent NCO and I shall miss him very much as he was always so willing to do anything that was required of him and did it cheerfully and excellently. He was greatly respected and also loved by all in the Company, all the officers and NCOs will miss him. His one thought was to look after the comforts of his men before himself. May God comfort and console you on your irreparable loss of one who gave his life fighting gallantly for his King and Country. The most heartfelt sympathy of the Officers, NCOs and men of my Company is sent to you. I remain sincerely yours C A OGIER, Lieutenant OC D Company 7th RIR". To the mother and other relatives we tender our sincere sympathy.