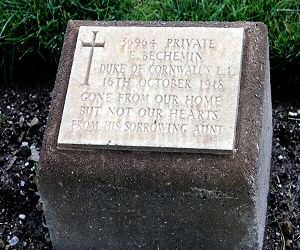 Private Edward Bechemin
8th Battalion, Duke of Cornwall's Light Infantry
16/10/1918


1914-15 Star
Nephew of Mrs A Coombs of 21 Sand Street, St Helier, Jersey.

Died from malaria, aged 23 years.
NEWS ITEM in Jersey Evening Post of Saturday 26 October 1918
Roll of Honour. Mrs Coombs of 21 Sand Street has received official news that her nephew, Private E Bechemin of the Duke of Cornwall's Light Infantry, died from malaria on 16 October. The deceased was 23 and was here on leave in August from Salonika.

Commonwealth War Graves Commission Record
Photograph courtesy of THANOS FOTEINOS from Find-a-Grave.com