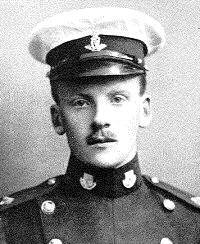 Captain John Edgar Bennett
1st Battalion, Royal Irish Regiment
03/09/1916


1914-15 Star
Son of Sophia Julia Bennett, of Score House, Ilfracombe, Devon, and the late Lt. Col. John Bennet (I.M.S.). Formerly of Beau Desert, St Saviours, Jersey. An Old Victorian, he was attached to the 2nd Battalion, the Royal Irish Regiment at the time of his death. Educated at Victoria College and Royal Military College, Sandhurst.


Killed in action at Delville Wood, aged 26 years.
NEWS ITEM in Jersey Evening Post of Friday 15 September 1916
Roll of Honour. Captain John Edgar Bennett of the Royal Irish Regiment, who was killed in action on 3 September aged 26, was the third son of the late Lieutenant Colonel John Bennett IMS and Mrs Bennett of School House, Ilfracombe and formerly of Beau Desert, St Saviours, Jersey. Captain Bennett was the youngest of three brothers, all of whom were educated at Victoria College, where they were very popular and distinguished athletes. All three passed from College directly into Sandhurst, but while the two elder boys went into the Indian Army, J E Bennett was gazetted to the Royal Irish Regiment in 1910. He came from India with his Battalion in November 1914 and only recently returned to France after a tour of duty with the Depot. After severe fighting he received official notification that he had distinguished himself by his conduct in the field.