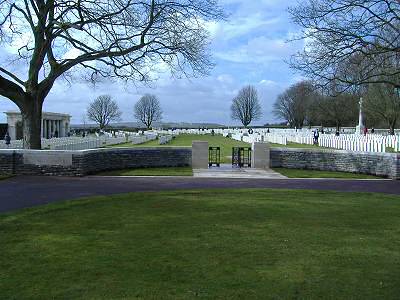 Canadian Cemetery No 2 Neuville St Vaast
Notice of Death appears in Jersey Evening Post of Monday 23 April 1917
NEWS ITEM in Jersey Evening Post of Wednesday 18 April 1917
Roll of Honour. Another loyal Jerseyman serving in the Canadian Grenadier Guards, Private Leonard Bertram, has been called upon to make the supreme sacrifice for his King and Country. This soldier was the son of Mr & Mrs J Bertram of East Lynne, La Rocque and was 23. He left for the land of the Maple a few years back, and enlisting in the Canadian Expeditionary Force was serving at the Front with another brother, Ernest, both being in the same Regiment. Another brother was wounded earlier in the campaign. The sad information states that Leonard was killed by a sniper on Easter Monday, his death being deeply regretted by all, who always found him an efficient soldier and a true comrade. We tender the bereaved parents our sincere sympathy in their sorrow.

Commonwealth War Graves Commission Record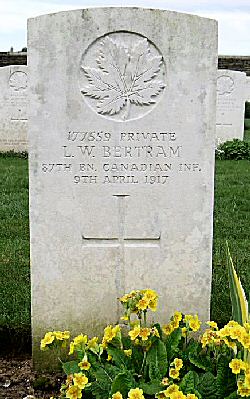 Private Leonard William Bertram
Canadian Infantry (Quebec Regiment)
09/04/1917
Third son of John & Jane E Bertram of East Lynne, La Rocque, Jersey.
Killed in action, aged 23 years.
Commemorated on family memorial in La Croix Cemetery, Grouville, Grouville Parish Memorial
& La Rocque Methodist Church Memorial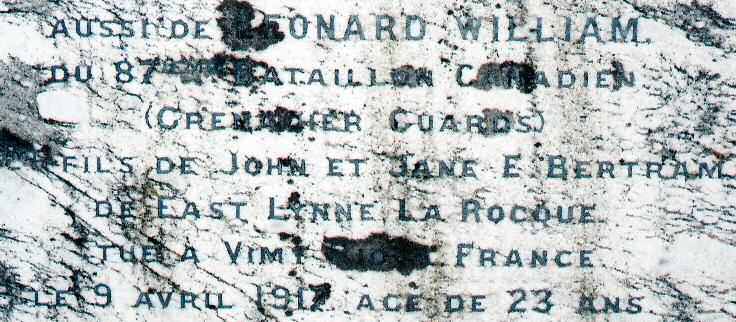 Family memorial in La Croix Cemetery, Jersey