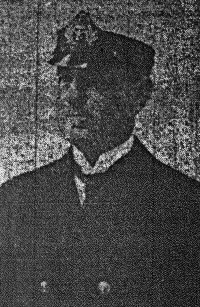 Lieutenant Philip Bisson
Royal Naval Reserve, HMS Waterwitch
20/01/1918
Son of Edward Le Couteur Bisson, of Jersey, Channel Islands. Husband of Clarisse Maud Bisson, of 92, Siebert Rd., Westcombe Park, Blackheath, London.
Killed in action, aged 42 years
NEWS ITEM in Jersey Evening Post of Monday 28 January 1918
Jersey Officer Drowned. Sergeant G Marret has received a telegram stating that a personal friend of the family, Lieutenant P Bisson of the Royal Naval Reserve, has been killed as the result of the vessel he was serving on being torpedoed. The late Lieutenant Bisson, who was the son of Mr Edward Bisson of Greenwood, St Johns, was formerly captain of a large oil steamer in the Argentine service and married Miss Clarissa Renouf, younger daughter of the late Captain Renouf, formerly of Delville, Georgetown. Three years ago he crossed over to England and joined the Royal Navy and was given the rank of Lieutenant. We offer our sincerest condolence to the widow and relatives.