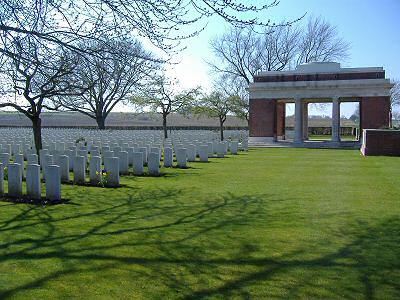 Warlencourt British Cemetery, Pas de Calais

NEWS ITEM in Jersey Evening Post of Friday 20 October 1916
Roll of Honour. The sympathy of all our readers we feel sure will be extended to Mr & Mrs Charles Blampied of 8 Almorah Crescent who have received news that their youngest son, Private John Blampied of 23rd Middlesex Regiment, has made the supreme sacrifice. This gallant soldier had not yet reached his 18th year, but keen on doing his utmost for King and Country he joined the Colours last November. During May he proceeded to France and letters have been received from him up to a few days ago, he being then engaged as a stretcher bearer, but unfortunately today the parents received the following letter from Sergeant G Gully, a Jerseyman who left the Island to enlist at the same time as the deceased. The letter reads "11426 Sergeant G Gully 10th Platoon C Company 23rd Middlesex Regiment BEF. 12 October 1916. Dear Mrs Blampied, It is my very sad duty to tell you that your son John was killed in action on 10 October. He was a very great friend of mine and I shall join in your great grief with a lasting memory of one who always did his best for any of his comrades out here, and we shall not be alone in that respect. I was with him shortly before his death, which I understand was quite sudden and that he did not linger at all. The other stretcher bearer who was working with him at the time tried, I believe, to rescue some of his belongings but the fire at the time was too hot and he had to give up. All his friends will, I am sure, join me in their sympathy to you for your sad loss. Believe me yours sincerely, GEORGE GULLY. PS If you do not quite remember me I am the one who went away the same time as Jack from Jersey". This is the second bereavement the parents have suffered during the war, their eldest son, Rifleman C W Blampied who left the Island with the Jersey Company, having been drowned in Ireland last year. The late Private John Blampied, though young was an efficient and trustworthy soldier and a loyal comrade and his many friends here will join us in offering our condolences to the bereaved family.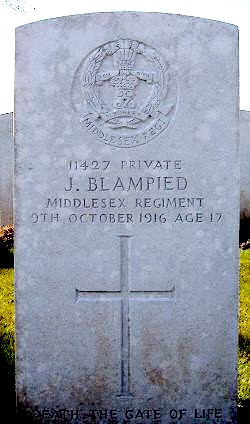 Private John Blampied
23rd Battalion, Middlesex Regiment
09/10/1916
Youngest son of Charles & Madge Blampied of 8 Almorah Crescent, St Helier, Jersey. One of two brothers who both fell.

Killed in action, aged 17 years.
Notice of Death appears in Jersey Evening Post of Friday 20 October 1916

Commemorated on Aquila Road Methodist Church Memorial, Jersey
Trinity Parish Memorial, Jersey
Commonwealth War Graves Commission Record