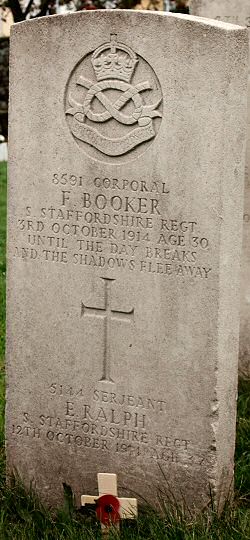 Corporal Frederick Booker
4th Battalion, South Staffordshire Regiment
03/10/1914
Son of Isaac and Ann Booker, of Walsall. Husband of Sarah Booker, of 103, Old Birehills, Walsall, Staffs.
Died aged 30 years.

Although christened 'Alfred Booker' he served in the Army under the name of 'Frederick Booker'.
Alfred was the son of Isaac and Ann (nee Smith) Booker of Reedswood Cottages, Walsall, his father being a lock smith.
He was married to Sarah Watton at Walsall in mid 1910 and resided at 14, Checkett Street, Walsall with her and their daughter, Lilian Irene, born in December 1910.
A metal dresser by trade, prior to Alfred rejoining the Army he was employed by Eglingtons Limited of Bridgeman Street, Walsall.

Having served in the Volunteers and then the 4th Special Reserve Battalion, South Staffordshire Regiment in 1909, Alfred was called up on reserve and was posted to Jersey for training. Whilst in camp at Jersey he rose from his sleep and then almost immediately fell back and died. At the subsequent inquest a verdict of "death from natural
causes" was returned.
Alfred was buried in Jersey's Almorah Cemetery, St. Helier in Grave 5.21.T on Wednesday 7 October 1914 with full military honours, his coffin being borne to the cemetery on a gun carriage. He was 30 years of age. Post war addresses of 103, Old Birchills, Walsall and Botany Cottage, Bell Lane, Birmingham Road, Walsall are recorded for Sarah and her daughter. Christened Alfred in Walsall in 1884, he is shown on the 1891 census return as Isaac, on the 1901 as Isaac Alfred and on the 1911 as Alfred Isaac. He married in the name of Isaac Alfred. Serving as Frederick, this is the name commemorated on his headstone and on the Walsall roll of honour.