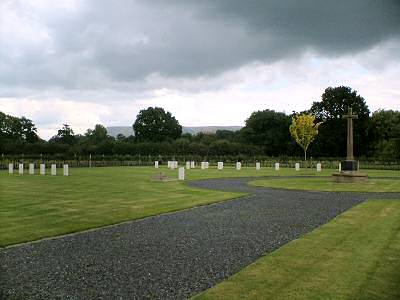 Whalley (Queen Mary's Hospital), Military Cemetery, Lancashire
Fourth son of Philip and Jane Mary Carrell, of The Temperance Hotel, Gorey Pier, Jersey.
Died of wounds at Queen Mary's Military Hospital, Whalley, Lancs, aged 38 years.

NEWS ITEM in Jersey Evening Post of Thursday 24 May 1917
Roll of Honour. We regret to record the death which has taken place after much suffering of Corporal Charles Philip Carrel of the Royal Engineers. This loyal soldier was the fourth son of Mr & Mrs Philip Carrel of Gorey Pier, and being keen on a military career enlisted in the Army many years ago. He served in the South African Campaign and eventually completed his period of service and returned to civil life. At the outbreak of war he volunteered and served in France for some time, unfortunately, last November, he was seriously wounded in the head and was sent to Queen Mary's Hospital in Lancashire. It was thought that with the careful treatment he was receiving he might recover, but unfortunately he passed away yesterday. The late NCO was 38. We tender the parents and other relatives our sincere sympathy.