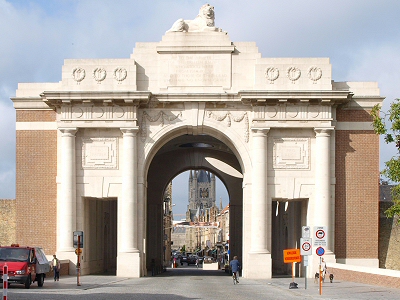 The Menin Gate, Ieper (Ypres), Belgium
Commemorated on St Thomas' Roman Catholic Church Memorial

Private George Frederick Chevert
23rd Battalion, Middlesex Regiment
21/06/1917
The son of Gille and Trephine Chevert of 43 Val Plaisant, St Helier, and husband of Maud of 29 Cannon Street. A former employee of Mr L Beghin
Having volunteered in 1915, He was reportedly killed whilst shielding another man who had fallen wounded.

Killed in action, aged 22 years.
Commonwealth War Graves Commission Record
NEWS ITEM in Jersey Evening Post of Saturday 7 July 1917
Roll of Honour - Gallant Jerseyman Killed in Action. A gallant Jerseyman has made the supreme sacrifice whilst warning his comrades of danger. We refer to Private G Chevret of the Middlesex Regiment whose parents, who reside at Springfield, were notified of their son's death in the following letter:
"To G Chevret Esq, Jersey. Sir, I deeply regret to inform you of the death of your son, Private G Chevret of this Battalion on 21 June. From the accounts of eyewitnesses which I have before me, he was killed in gallantly shielding another man, but I will quote an extract from one of the accounts "I heard a shell coming over and I heard Chevret cry "LOOK OUT", simultaneously I saw him throw himself on the man next to him and he fell a piece having penetrated his heart." I think no words that I can pen could add anything further to this statement. In the course of my duties I was brought into close contact with your lad, and he always impressed, not only myself but everyone who met him as a true comrade, a stern devotee to duty and a man in whom confidence could be placed even in the most exacting of things. A capable machine gunner, he had already come under the notice of his Commanding Officer for the manner in which he carried out his duties. May I venture in the name of all my brother NCOs and myself to offer you our very deepest and sincere sympathy in your great and inconsolable loss and I may assure his memory will for ever be green in the minds of us all who mourn a true and brave comrade and a very gallant soldier.
I am, Sir, Yours faithfully A V BARNETT, Company Quarter Master Sergeant."
A sad feature of the case is that the parents had already lost a son in the war, two other sons are also fighting, one in the British Army and another in the French Marines. The late Private Chevret, who was in his 21st year, was for some years in the employ of Mr L Beghin and will be remembered by all patrons as a highly respected assistant who was held in the greatest regard by all he had come into contact with. He volunteered for service in 1915 and was last in the Island on leave in January 1916. By a sad coincidence the assistant who replaced him at Beghins has also been killed. We tender the bereaved family our sincerest sympathy, hoping that as time assuages the first grief they will realise that their son died a true hero's death and truly gave his life for his friends, King and Country.