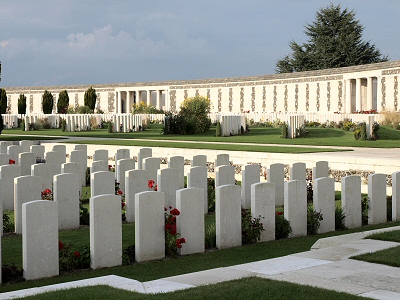 Tyne Cot Memorial & Cemetery, Belgium
The son of George and Mary Ann Courcoux and husband of Angelina (nee Beuchet), of 13 Green Street, St Helier, and later of 9 Francis Street, St. Helier. One of two brothers who both fell within 6 months
Served in his battalion as a drummer. Rank given in JEP as Sgt-Drummer.
Killed by a shell, aged 27 years
NEWS ITEM in Jersey Evening Post of Saturday 11 August 1917
Roll of Honour. Another Jerseyman, Sergeant Drummer Robert Charles Courcoux of the Yorkshire Regiment has made the supreme sacrifice for King and Country. This soldier who was very well known and highly respected locally was one of the original gallant Expeditionary Force and was in his 27th year. The following letter received by his widow (nee Rose Bauchet) who resides at 13 Green Street shows the high regard in which the gallant Sergeant was held in the Regiment.
"To Mrs Rose Courcoux, 13 Green Street, Jersey. Dear Madam, It is a very painful duty to me to have to inform you of the death of your husband Robert Charles who was killed in action on 1 August 1917. We feel it is not only a loss to the Company but to the Battalion for in his position he was known and respected by everyone. He was killed by a shell while doing his duty nobly in a position of trust. He was a true soldier and being one of the few who came out with the Battalion at the beginning his loss is deeply deplored. Never have I heard such expressions of regret from the whole of the officers and on their behalf I beg of you to accept our heartfelt sympathy in your sad bereavement. Yours truly, H JEFFRIES, 2nd Lieutenant A Company. 5/8/17".

We tender all the bereaved relatives our sincerest sympathy.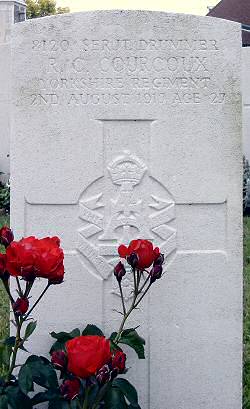 Sergeant Robert Charles Courcoux
2nd Battalion, Yorkshire Regiment
02/08/1917


1914 Star
Notice of Death appears in Jersey Evening Post of Saturday 11 August 1917 & Saturday 18 August 1917
Commemorated on St Peter's Parish Memorial, Jersey
Commonwealth War Graves Commission Record