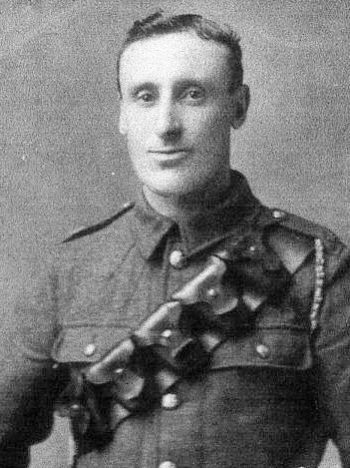 Gunner William Reginald Coutanche
32nd Battery, 33rd Brigade Royal Field Artillery
18/07/1916


1914-15 Star
(photograph courtesy of Colin Harris)
Youngest son of the late Francis Coutanche of The Park, St Helier, Jersey. Brother of Corporal Albert George Coutanche
Killed in action, aged 31 years.
NEWS ITEM in Jersey Evening Post of Thursday 31 August 1916
Roll of Honour. News has reached the family of the death in France on 18 July last of Gunner William Coutanche. Gunner Coutanche was the youngest son of the late Mr Francis Coutanche. He joined the Royal Field Artillery in 1902 served for a short time in England and for a number of years in India. He was transferred to the Army Reserves in 1911 and finally settled at St Austell. On the outbreak of hostilities he was recalled to the Colours and proceeded to France with the 32nd Battery 33rd Brigade Royal Field Artillery in the 8th Division. He became time expired early this year but re-engaged for the period of the war. The following letter received from his Section Officer in France shows that he had made himself a valued asset to the Battery.
The letter reads "14 August 1916. Dear Madam, Your letter of 9 August was received yesterday and it is with much regret that I have to tell you of the death of Gunner Coutanche, who was killed in action at about 3.30pm on the afternoon of 18 July. The Battery was in action and the gun which your son was actually firing himself was hit by a big shell, his death was instantaneous and he cannot have suffered at all. He was buried at an English cemetery by the Artillery Chaplain near where we were in action. I cannot tell you the name of the place in this letter but I shall be able to do so at a later date. He is greatly missed by me as his Section Commander and also by all in the Battery with whom he was very popular, always to be relied upon, brave and with a thorough knowledge of his work, his place will be hard to fill. He died a very gallant death such as he would have desired. With deepest sympathy, Yours sincerely, A N M GILBERT, 2nd Lieutenant."
View a copy of the orginal letter
Prior to his enlistment the deceased was for some time coachman to the late General Pipon of La Motte House. We offer our sincere sympathies to the family in their bereavement.