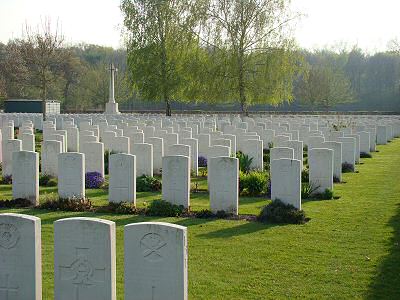 Dozinghem Military Cemetery, Belgium
Son of Maj. and Mrs. J. F. Cutler, of Queen St., St. Helier, Jersey.

Killed in action at Ypres, aged 23 years
NEWS ITEM in Jersey Evening Post of Wednesday 21 October 1914
Departure of Militia Officer Lieutenant S Le G Cutler. Though there were very few passengers on the Mail Boat this morning animated scenes were witnessed on the quay. Lieutenant S Le G Cutler of D Company 3rd Battalion RMIJ was a passenger for England where he is joining the Army Service Corps and the men of the Company were determined not to let him leave the Island without showing him in what high regard he is held by them. Notwithstanding the fact that they had been on Outpost Duty for 12 hours the Company looking fit and smart marched down to the Albert Pier in charge of Captain P Barrette their popular officer to give the departing Lieutenant a rousing send-off. The drum and fife band of the Battalion was also on the quay and played several selections these, needless to say, included Tipperary and other now world famous tunes. As the vessel slipped her mooring the strains of Auld Lang Syne were just heard above the cheers of the men of the Company. These were renewed when the Sarnia passed out of the pier heads, the band playing and cheers being raised until the vessel was well out of the harbour. Lieutenant Cutler leaves the Island with the best wishes of his numerous friends and to these we would our own sincere good wishes for his future career.



NEWS ITEM in Jersey Evening Post of Friday 10 August 1917
The Roll of Honour. We deeply regret having to announce that another gallant Jerseyman has just been added to the list of victims of the War. A telegram was received this afternoon bearing the sad news that Captain S Le G Cutler, son of Major Cutler of Queen Street, had been killed in action. It reads "War Office, London. Major Cutler, Khartoum House, St Lukes, Jersey. Deeply regret to inform you that Captain S Le G Cutler attached to Royal Flying Corps was killed in action 9 August. The Army Council express their sympathy. Secretary War Office". The deceased officer, who was only 23, joined up in August 1914 and got his Captaincy some 12 months ago. He had a narrow escape from death only a week ago, his machine being riddled with bullets and brought down in flames. Captain Cutler was a grandson of Mr Philip Le Geyt of Khartoum House. We tender our sincere sympathy to all members of the family.
NEWS ITEM in Jersey Evening Post of Saturday 7 November 1914
Lieutenant S Le G Cutler. We learn that Lieutenant Cutler who recently left the Island to join the Army Service Corps proceeded to the Front on Wednesday last.

Commemorated on OV Memorial, Jersey
and on St Luke's Church Memorial, Jersey