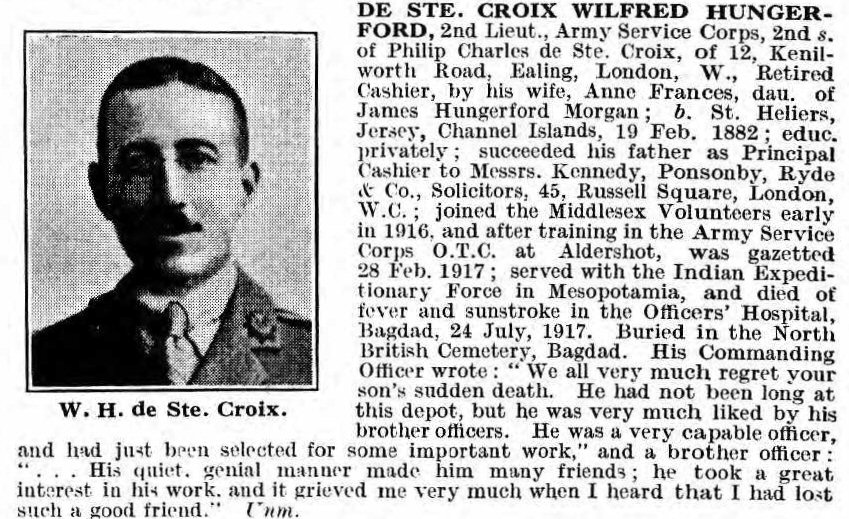 De Ruvigny's Roll of Honour vol.3
Second Lieutenant Wilfred Hungerford de Ste Croix
Royal Army Service Corps
24/07/1917
Second son of Philip Charles & Anne Frances de ste Croix formerly of 5 Hastings Terrace, St Helier, Jersey,
Died of heat stroke whilst on active service in Mesopotamia, aged 35 years.
NEWS ITEM in Jersey Evening Post of Tuesday 19 February 1918
The Late Lieutenant W H de ste Croix - Unveiling of Memorial Tablet. Shortly after noon today a short service was held at St Lukes Church for the purpose of unveiling a tablet to the memory of the late 2nd Lieutenant Wilfred Hungerford de ste Croix of the Royal Army Service Corps, nephew of Miss de ste Croix of Hastings Terrace. The parents of the deceased, Mr & Mrs P C de ste Croix who live in Ealing, unfortunately could not be present at the service in memory of one who, as a lad, had often worshipped at St Lukes. The congregation was not a large one but among those present were Miss de ste Croix and a number of friends of the deceased. The hymn "Jesus Lives" having been sung the Very Reverend the Dean offered the prayers appointed for services of dedication, these included special petitions for he whose memory they were met that day to commemorate, then advancing to the north wall of the nave where the tablet had been erected, the Dean said they were met that day to unveil a tablet to the memory of one who had died for his country and their hearts went out to the parents. They realised that such young men as he whose memory they were honouring were heroes who had laid down their lives for their Country and though it seemed hard when they thought of the tens of thousands of young men who had done so, yet they must regard it as being in accordance with God's will, and though they could not quite understand the purpose behind it all they all felt that these lives were taken so that God's great purpose might be realised. The tablet which he was unveiling was dedicated to the memory of Lieutenant de ste Croix on his birthday and he felt that the young man who had often worshipped in the Church was with them that day in spirit. After unveiling the tablet which had been hidden by the flag of the 6th Cadet Company of the Boys Brigade the Dean concluded with the words "God receive him, Christ accept him". The closing hymn having been sung the Dean offered the concluding prayers and pronounced the benediction after which Mr Amy brought a very impressive service to a close by playing another voluntary.