Humbercamps Communal Cemetery Extension, nr. Doullens
Eldest son of Walter de Laci Devereux and Blanche Isobel Devereux, of Middlewood, St Saviours, Jersey. Born at Scarning, Dereham, Norfolk. One of two brothers who both fell at the age of 22.

Killed in action, aged 22 years.
Educated at Victoria College, Perse School and Corpus Christi College, Cambridge
NEWS ITEM in Jersey Evening Post of Monday 3 July 1916

Another Old Victorian makes the Supreme Sacrifice. News has been received in the Island that another Old Victorian, Lieutenant Humphrey William Devereaux, has made the supreme sacrifice. This gallant officer was the son of Mr Devereaux who formerly resided at Middlewood, St Saviour. He was at Victoria College from 1906-10 and was a most popular and promising scholar. After leaving Jersey he was educated at Cambridge and promptly responding to the call, he joined the 5th Battalion South Staffordshire Regiment, now commanded by Lieutenant Colonel R R Raymer DSO, an old College master, in February 1915. He was gazetted Lieutenant a few months later and was seriously wounded in the fighting at the Hohenzolleren Redoubt on 13 October 1915. He returned to his Regiment in France in April 1916 and to the regret of all his friends was killed in action on 26 June.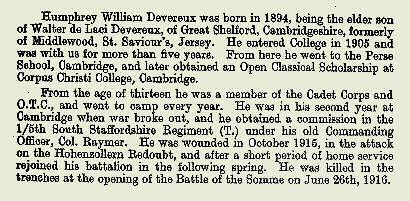 Commemorated on O V Memorial, Jersey
and St Saviours Parish Memorial, Jersey