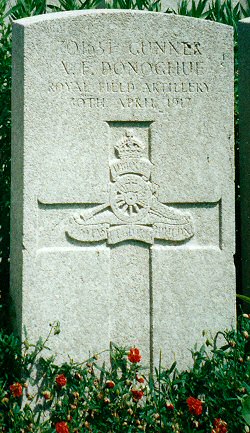 Gunner Andrew Francis Donoghue
330th Brigade, Royal Field Artillery
30/04/1917
NEWS ITEM in Jersey Evening Post of Monday 7 May 1917
Roll of Honour. We regret to learn that Gunner Andrew (Bert) Donoghue of the Royal Field Artillery has died somewhere in France after a short illness. The death occurred on 30 April and the sad news was conveyed to the widow, who resides in Kensington Place in a sympathetic letter from the Captain of his Battery and which she received yesterday.
It reads "Dear Mrs Donoghue, Major C W Hince, who commands the Battery, asks me to write and say with what very deep regret he has to tell you that your husband, 701651 Gunner Donoghue, died in hospital at 3 o'clock on Monday afternoon from acute tuberculosis. Your husband was buried in a cemetery here today and the Major, Lieutenant Heeley and I attended the funeral. A party of men from the Battery acted as bearers. I deeply regret I cannot inform you the place where your husband is buried, but you will be duly notified by the authorities, his grave will be properly registered and cared for. While of course nothing can atone for the irreparable loss you have sustained it may be of some slight consolation to you to know that your husband died for his Country just as much as though he had been killed in action, indeed he was in action until shortly before his death. He was an excellent soldier and liked by everyone. Major Hince desires me to express his deep sympathy with you and I wish also to convey the sympathy of Lieutenant Heeley, your husband's section officer, and myself and all the other officers, NCOs and men of the Battery.
Yours faithfully, T H HOWSON, Captain RFA".
The deceased, who was in his 25th year, joined up in Birmingham and had been at the Front since February. He was a brother of Mr J Donoghue of 8 The Parade.

Picture courtesy of Mike & Rosemarie Thomas