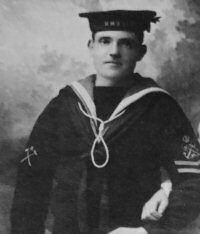 Blacksmith Otto Drube
Royal Navy. H.M.S. "Black Prince"
31/05/1916


1914-15 Star
Son of German born Otto, and Irish born Elizabeth Drube, of St Helier, Jersey.
Husband of Alice Le Signe.
Son-in-law of Mrs. M. Le Signe, of The Halt, Fauvic, La Rocque, Jersey.
Killed in action, aged 34 years

NEWS ITEM in Jersey Evening Post of Tuesday 6 June 1916
The Naval Battle. Three days before the battle it was known that Petty Officer O Drube was serving on HMS Black Prince. This sailor, who was specially promoted to Petty Officer by the Admiralty about 2 years after joining the Royal Navy, has served 13 years. His wife and 2 children reside at Fauvic. No information has yet been received as to the sailors fate.

A total of 26 Jerseymen are believed to have lost their lives in the Naval Battle of Jutland on 31 May 1916 and on HMS Hampshire which sank on 6 June 1916 after striking a mine off the Orkneys.