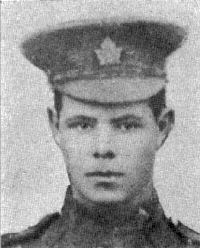 Private Edward Syvret du Feu
5th Canadian Mounted Rifles (Quebec Regiment)
02/06/1916
The son of Alfred James and Esther E (nee de la Haye) Du Feu of 97 Rouge Bouillion, St Helier.
He had been serving for a year when killed during a bombardment.

Killed in action, aged 18 years.
NEWS ITEM in Jersey Evening Post of Friday 23 June 1916
Roll of Honour. We regret to state that Mr & Mrs du Feu of Campbell Terrace, 97 Rouge Bouillon, have received official intimation that their son Private E du Feu of the 5th Canadian Mounted Rifles was killed in action on the afternoon of 2 June, during a German bombardment. This gallant soldier was only 18 and left the Island for Canada only a few years ago. A comrade of the deceased writing to the bereaved parents states that the lad "was a jolly and highly esteemed soldier and his loss is much regretted by the officers and men of the Company." We offer Mr & Mrs du Feu and family our sincere condolences in their sorrow.