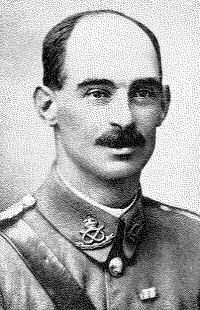 Captain Julian Silver Strickland Dunlop
1st Battalion, South Staffordshire Regiment
24/10/1914
Mentioned in despatches


1914 Star
Third son of Andrew Dunlop, M.D., of Belgrave House, Jersey, Channel Islands. Gazetted to a commission in 1895; Lt. 1898; Capt. 1904; A.D.C. to Sir Frederick Fryer, Lt. Governor of Burmah. Adjt. 4th (Spec. Res.) Bn. S. Staffordshire Regt. One of eight brothers, five of whom served, and three of whom fell, all within one year. Educated at Victoria College.
Killed in action, aged 38 years
NEWS ITEM in Jersey Evening Post of Thursday 28 January 1915
Gallant Jersey Officer. Private John Jones of Portobello has favoured the Wolverhampton Express & Star with a description of the manner in which Captain J S S Dunlop of the 1st South Staffords met his death. Captain Dunlop was the son of Dr A Dunlop of Jersey and was an Old Victorian. Private Jones was injured by a piece of shrapnel about 7 weeks ago and he writes "One of the bravest was our Captain and as good as a father to all his men. I shall always remember when he got killed. Having got through a wood alright we started to advance across a ploughed field, but no sooner had we got into the open than the Germans started shelling us. I had just dropped down when a shell exploded behind me and the force of the explosion threw a pig about 10 yards. Our Captain was a man who knew his work and the men would go anywhere with him. Subsequently the order was given for a bayonet charge and we had not got far across the ploughed field before the Captain was killed. He was leading his men about 10 yards in front when he was killed after which our fellows went mad and gave the Germans something to go on with - the place swarmed with dead after the charge. When we got back to where the Captain lay some of our fellows had a job to keep tears from their eyes but our charge had not been in vain. Our fellows could not forget our good old Captain for days after".