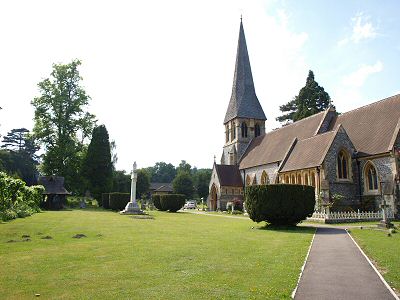 Langleybury (St Paul) Churchyard, Abbots Langley

John William Dustan was the only son of John Dustan, Brigade Surgeon AMD, and was born in Malta, 1st December, 1873. He entered College in 1883 and remained till 1891, getting his football colours in 1887. He was a good classical scholar, and the Principal (Mr. RH Chambers) wanted him to enter for a Channel Islands Scholarship at Oxford, but an academic career did not appeal to him. He was granted a Queen's Cadetship, but elected to enter the RMLI.
He went out to the China Station in 1898, and was promoted Captain while there. He saw very hot fighting in the Boxer Rebellion of 1900 - went to the relief of the force under Admiral Seymour, was in all the fighting in and around Tientsin, being mentioned in despatches for his services there, and marched with the Naval Brigade to the relief of the Legations at Peking. He was Commandant at Ascension from 1908 to 1910, and was promoted Major in 1911.
In 1913 he went to sea in the flagship HMS "St. Vincent" and was serving in her when the war began. The terrible exposure of the first winter, 1914-1915, the long spells of "spotting" in the icy cold of the conning-tower sometimes as much as six hours at a stretch told their tale, and his health broke down completely towards the end of 1915. He lingered on in various hospitals and convalescent homes until his death on 2nd July, 1917. He left a widow and one boy, JAR Dustan, who was at College from 1913 to 1916.
Dustan won the esteem and affection of his brother officers and men; his quiet efficiency and his generous self-effacing character were the very embodiment of the noble service to which he belonged.