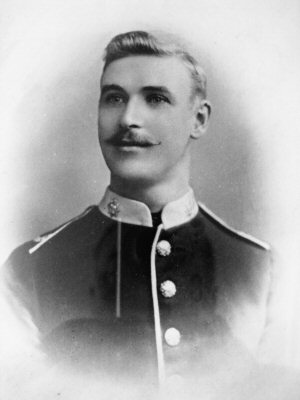 Sergeant Frederick Charles Farmer
1st Battalion, East Surrey Regiment
14/02/1915
(photograph courtesy of Mrs Marion Rossler)


1914-15 Star
Lived at No 14 La Chasse, St Helier, Jersey with his wife Emma Ryan and their three children and was employed before the war by Mr Anthony, the butcher in Halkett Place.
He died at No 11 Field Hospital in Boulogne of wounds to his spine, aged 30 years
NEWS ITEM in Jersey Evening Post of Friday 19 February 1915

Roll of Honour. Death of Sergeant Farmer. News has been received on the Island from the Matron of General Hospital, Boulogne of the death of Sergeant Frederick Charles Farmer of the 1st East Surrey Regiment in his 30th year. The deceased who resided at 14 La Chasse, St Helier, leaves a widow, a Jersey lady, and 3 children. Prior to the war he was employed by Mr Anthony a butcher of Halkett Place. In the letter conveying the sad news to Mrs Farmer the Matron alluded to the fact that the deceased had sustained a serious injury to his spine and that even if he had lived he would have been partially paralysed. She also alluded to the fact that the deceased had been recommended for the VC and that he was a great favourite with all the patients in the ward. It is interesting to note that Sergeant Farmer belonged to a most heroic family his father having already won the VC in an earlier campaign.