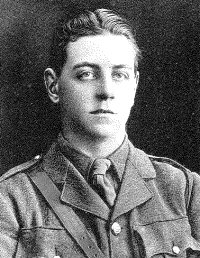 Lieutenant Thomas Edward Coney Fisher
1st Battalion, East Lancashire Regiment
01/07/1916





Son of Major Edward and Edith Mabel Fisher, of Braywick, Budleigh Salterton, Devon (formerly of La Guilaumerie, St Saviour, Jersey). Educated at Felsted and Sandhurst.
Killed in action, aged 19 years.
He was last seen in a German trench and it had been initially hoped that he would been reported as a POW.


NEWS ITEM in Jersey Evening Post of Monday 11 September 1916
Roll of Honour. Some weeks ago we announced that Lieutenant T E C Fisher of the Dorset Regiment, son of Captain & Mrs Fisher formerly of St Saviour, was reported missing, he having last been seen entering a German trench. Hopes were entertained that this popular officer would be reported a prisoner of war, but unfortunately it is now presumed that the Subaltern has been killed. The late Lieutenant was an Old Victorian and the news of his death will be received with regret by his friends and acquaintances in the Island. To Captain Fisher and family we tender our sincere condolences in their bereavement.