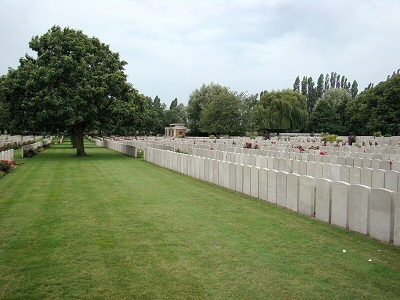 Lijssenthoek Military Cemetery, Poperinge, Belgium
Son of G. Henry Fletcher and Mary Ann (his wife), of 423, Gordon Avenue, Verdun, Montreal. Native of Jersey,

Died of wounds, aged 20 years
NEWS ITEM in Jersey Evening Post of Saturday 22 February 1919
Friends of Private Arthur L Fletcher of the Canadians, who died of wounds received at Passchendaele, will be interested to learn that the late soldier has been awarded the Military Medal for special gallantry in this engagement. He showed distinguished bravery in carrying messages under very heavy fire. On the morning of the attack the enemy laid down so heavy a fire that it was impossible to keep the lines of communication open. Private Fletcher with a comrade promptly volunteered to go forward and get information. He was severely wounded but persisted in going forward, he obtained the required information but on the way back collapsed from loss of blood and pain, he insisted however on his comrade leaving him and getting back with the message. His conduct was a splendid example to all.