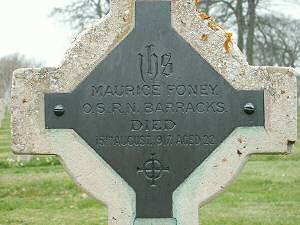 Ordinary Seaman Maurice Walter Foney
Royal Navy. HMS Victory I
15/08/1917
One of three brothers who all fell. Son of Philip and Mary Angelina Alexandrina Foney, of 1, Albert Terrace, Bulwark, St. Aubins, Jersey. Born at St. Brelade, Jersey.
Died, aged 22 years
NEWS ITEM in Jersey Evening post of Tuesday 21 August 1917

Roll of Honour. We regret to announce the death which took place at Haslar Hospital on 15 August after a long and painful illness of Seaman Maurice Walter Foney RN. The deceased sailor who was 22 was the son of Mr Foney of St Aubins who had visited him during his illness. He had served in the Royal Navy for some considerable time and had been in several engagements. We tender the bereaved family our sincere sympathy.