Lonsdale Cemetery, Authuille, near Albert.
Son of Francis Grandin Gallichan and Alice Jane Le Boutillier (his wife), of 2, Killowen, First Tower. St. Helier, Jersey.

One of four brothers who served two of whom fell in 1916

Killed in action, aged 25 years.

Commonwealth War Graves Commission Record
Picture courtesy of Mike & Rosemarie Thomas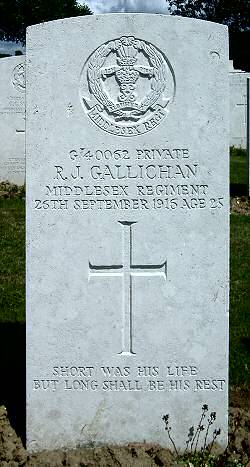 Private Raymond John Gallichan
12th Battalion Middlesex Regiment
26/09/1916
NEWS ITEM in Jersey Evening Post of Thursday 14 June 1917

Roll of Honour. We feel sure that the whole of the residents of Jersey will be at one with us in offering to Mr & Mrs F G Gallichan of Killowen, First Tower, deep and sincere sympathy in the sorrow that has just come upon them. Of their family of five sons four have been serving His Majesty since the early days of the war and for many months the family have been experiencing great anxiety of mind concerning the two younger ones, from whom they had heard nothing in one instance since July last, and in the other since the month of September. Naturally they have been tireless in their enquiries to gain tidings of their boys and they have been in communication with comrades of both, with the Records Office of the Regiments to which they were attached, with the War Office and they had even made application both to the American YMCA officials in Berlin and to Mr Gerard, the former USA Ambassador in Germany, with a view to enquiries being made in the enemy country as to whether they were amongst the British who had been taken prisoner on the field of battle, but all these enquiries have proved fruitless, though many of the letters received from comrades of their lads, and even from official sources, held out hope to them that though both had been posted as missing there was a great probability of their having been made prisoners. Doubt however has been set at rest by the communication which Mr Gallichan received from the War Office a few days ago in which the deepest sympathy was expressed with the parents of both 2nd Lieutenant F E Gallichan and of Private R J Gallichan, whom they now must presume as having laid down their lives for their Country, in the former case at Delville Wood on 27 July 1916 and in the latter at Thiepval on 26 September 1916. Lieutenant Francis Ernest Gallichan was the youngest son of the family and if he had lived would have been 23 last January. After being educated at Oxenford House School he entered the service of Parrs Bank and finally received an appointment at Kingston-upon-Thames. Early in January 1915 he was given a commission in the North Staffordshire Regiment and leaving England with the troops to be employed in the Spring Offensive of 1916 he fought throughout that campaign.

On 27 July he was wounded in one of his legs in the fight for Delville Wood and was last seen by some of his brother officers lying in a dug out. After the battle a party was sent to bring him in but it was found that the dug out had been blown in and it is evident that it was at that moment that he lost his life, though as they had not found his body and those of other men who were known to have been with him in the dug out were recovered it was thought that he might have been captured by the enemy who at one time of the engagement actually held that part of the line. Private Raymond John Gallichan was the fourth son who, like all his brothers, was also educated at Oxenford House School and would have attained his 26th birthday this coming July. On leaving school he entered the services of the Capital and Counties Bank and after holding appointments at several branches was made cashier of Petersfield branch. During 1915 he made up his mind to serve his Country as his three brothers were doing and he joined the Royal Fusiliers (Bankers Battalion) and as a Private of that Corps went to France. He and a number of his comrades were, however, transferred to the 12th Middlesex Battalion, with which he was fighting on 26 September at Thiepval. During the course of the battle he received a wound in one of his arms and this was bound up by a comrade who advised him to go to a Dressing Station, however he did not and his body was not found subsequently on the battlefield, and he was posted officially missing. Until the last War Office communication reached them the parents were in hope that he might also still be alive, though in the hands of the enemy. The bitterness of the grief of the parents after nearly 12 months of ceaseless suspense can be fully realised and we feel sure that they will have the sympathy of all and in the days to come will be cheered by the fact that their sons gave their lives on the field of battle to help free the present and future generations of all nationalities from the tyranny of the Huns and, we hope, from the horrors of war.