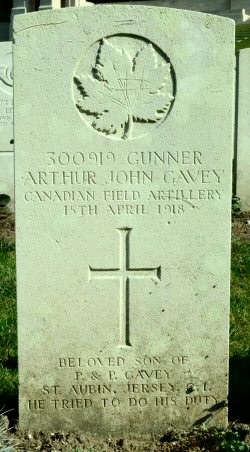 Gunner Arthur John Gavey
10th Brigade,Canadian Field Artillery
15/04/1918

Younger son of Philip E & Phoebe Gavey of St Aubin, Jersey.
Died of wounds (gas) at 24th General Hospital in Etaples, aged 21 years.
NEWS ITEM in Jersey Evening Post of Friday 22 March 1918
Jersey Canadian Soldier Seriously Wounded. A few days ago Mr & Mrs P E Gavey of St Aubins received official notification that their younger son, Gunner Arthur Gavey of the Canadian Artillery, had been severely wounded in the head by a gas shell and was also suffering from shock. The intimation also stated that the soldier was too ill to be removed to the base so that needless to say the parents anxiously waited for further news. We are pleased to state that yesterday a letter was received stating that the Gunner was slightly better but still on the danger list. We hope for more favourable news soon.
NEWS ITEM in Jersey Evening Post of Friday 19 April 1918
Roll of Honour. As we briefly stated in our special edition yesterday Mr & Mrs P E Gavey of St Aubins have received the tragic news that their second son, Gunner Arthur John Gavey of the Canadian Field Artillery, has succumbed to the injuries he received in action last month. The late soldier, who was very well known locally and highly respected, was educated at Oxenford House School, he was a prominent member of the St Aubins Swimming Club and in 1912 won the Junior States Medal. He left for the land of the Maple a few years back to enter the employ of Robin Collas & Co and when the call came joined the fighting forces of the Dominion. He was severely wounded by gas shell during the early days of March and though at one time favourable news was received, he had unfortunately to be moved from the Field Hospital through the enemy offensive, and this evidently did not improve his condition for he succumbed on Monday last. The gallant Gunner was in his 22nd year.

NEWS ITEM in Jersey Evening Post of Monday 30 August 1915
Jerseyman's Brave Deed. Many of our readers will remember Mr Arthur Gavey of St Aubins who for some years was one of our crack swimmers. He has been in Canada for several years now in the service of one of the well known firms at Gaspe having a big Jersey connection, and a week or two ago his knowledge of the natatory art enabled him to save the life of a fellow creature. In a letter to his parents, Mr & Mrs P Gavey of St Aubins, the young Jerseyman tells how he saw a man who was working at the jetty at Gaspe fall from the place where he had stationed himself into the water and that seeing the man was drowning he plunged into the water between the quay and the vessel and managed to bring him ashore, and though overcome by his immersion resuscitation methods proved successful. Our congratulations to Mr Arthur Gavey on his brave deed which we trust will meet with the deserved recognition. We might state that Mr Gavey has obtained permission from his employers to join the Canadian Forces and he has written to his parents stating that he is about to proceed to the Depot to begin his period of training.