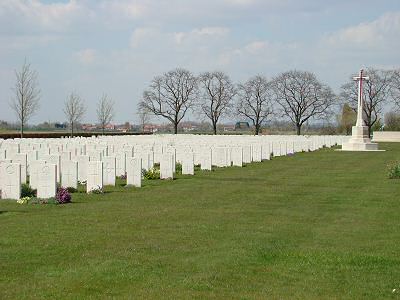 Trois Arbres Cemetery, Steenwerck, France Nord

Notice of Death appears in Jersey Evening Post of Saturday 11 August 1917

NEWS ITEM in Jersey Evening Post of Saturday 11 August 1917
Roll of Honour. Mrs Grandin of 3 Franklyn Place, Windsor Road today received the sad information from the Reverend G Kennedy-Tucker, Church of England Chaplain of the 2nd Australian Casualty Clearing Station, that her son, Private Charles Philip de Carteret Grandin, had died of wounds. The Chaplain states that the soldier was admitted to hospital on 31 July suffering from wounds in the back and passed away the following day. Continuing, he says that the relatives can be cheered by the thought that the soldier did his duty and did it well. The late soldier was in his 28th year and before leaving for the Commonwealth about 9 years ago was employed at Voisin & Co. The family have our sincere sympathy.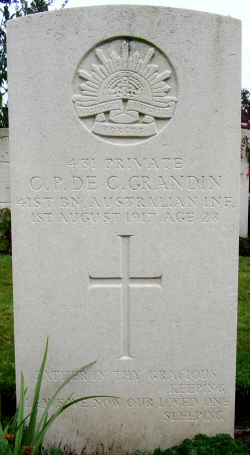 Private Charles Philip de Carteret Grandin
41st Battalion. Australian Infantry
01/08/1917
Son of Charles Daniel and Louisa Ann Grandin, of 3, Franklin Place, Windsor Rd., Jersey.
Died of wounds, aged 28 years.
Commemorated on family memorial in Mont a l'Abbe Cemetery, Jersey
Commonwealth War Graves Commission Record