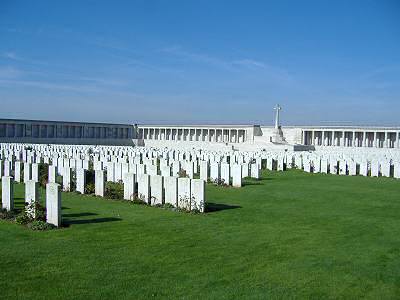 Pozieres Memorial, France Somme
Notice of Death appears in Jersey Evening Post of Friday 4 October 1918
Only son of Albert Francis & Mabel Grellier of 3 Bond Street, St Helier, Jersey
Educated at Victoria College. A premium apprentice at Swindon Works Great Western Railway.
Killed in action at Vauvillers, aged 19 years
Commemorated on:
OV Memorial, Jersey
All Saints Church Memorial, Jersey
St Helier Parish Church Memorial, Jersey
and Great Western Railway Roll of Honour
NEWS ITEM in Jersey Evening Post of Monday 8 April 1918
Lieutenant A B Grellier Wounded and Missing. It is with sincere regret we state that late on Saturday Mr & Mrs A F Grellier of Bond Street received a telegram conveying the sad news that their only son, 2nd Lieutenant Arthur Berteau Grellier of the Lancashire Fusiliers, was reported wounded and missing on 27 March. Young Lieutenant Grellier was an Old Victorian and whilst a Premium Apprentice at the GWR Engineering Works at Swindon enlisted under the Derby Scheme, he being then 19. After training with the Artists Rifles OTC he was gazetted 2nd Lieutenant in the Lancashire Fusiliers and proceeded to France on 16 October of last year. The gallant soldier was keen on his profession and had evidently a promising career before him. He has scores of friends and acquaintances in the Island who will join us in expressing the hope that the parents will receive more favourable news in the very near future.
NEWS ITEM in Jersey Evening Post of Friday 12 April 1918

A communication received by Mr A F Grellier of Bond Street from the Military Secretary states that 2nd Lieutenant A B Grellier of the Lancashire Fusiliers, previously reported wounded and missing on 21 March, is now reported missing. We hope for favourable news in the near future