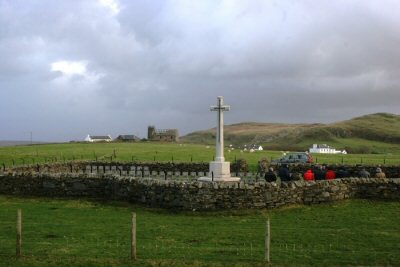 Kilchoman Military Cemetery, Isle of Islay
NEWS ITEM in Jersey Evening Post of Wednesday 16 October 1918
Roll of Honour. Amongst those who lost their lives in the Otranto-Kashmir collision was Chief Petty Officer Charles Henry Hacking of this Island. The deceased, who was in his 40th year, was formerly in the P & O Line but at the outbreak of war the ship he was serving on was commandeered by the Government and since that time he had many exciting experiences. On two occasions his ship was torpedoed and he narrowly escaped with his life. He leaves a widow and daughter to mourn his loss, to whom with the other members of the family we tender our heartfelt sympathy.
Commemorated on:
Halkett Place Primary School Memorial, St Helier, Jersey
Commonwealth War Graves Commission Record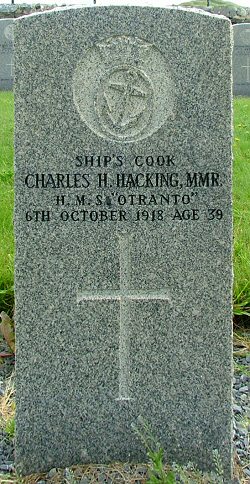 Ship's Cook Charles Henry Hacking
Mercantile Marine Reserve, H.M.S."Otranto"
06/10/1918
Born at Jersey. Son of Albert Hacking. Husband of Julia M Hacking of Haimance Lodge, Ann Street, St Helier, Jersey

Killed in action, aged 39 years.
Notice of Death appears in Jersey Evening Post of Wednesday 16 October 1918