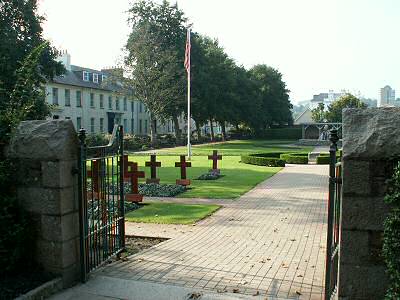 St Helier War Cemetery, Howard Davis Park, Jersey
At the age of 19 yrs Enlisted to Royal Lancaster Regiment 5th January 1893.
Transfered to Royal Garrison Artilliery 23rd January 1893.
Served at Fort Sandown, Isle of Wight, where he met and married Ellen Reed.
Also served at Fort Burquoyne, Dover, and Golden Hill Fort, Isle of Wight.
Transferred to Royal Artillery Reserve 9th July 1902
Discharged from Royal Artillery 1909
Enlisted Territorial Force 2nd Wessex Brigade 8th August 1914.
Discharged unfit 11th December 1914 and re-enlisted Royal Defence Corp.
Information supplied by Brian Hanlon
George Hanlon was originally buried in St Brelade's parish Churchyard, but his remains were later relocated to Howard Davis Park during the German Occupation of the Channel Islands (1940-1945) when the German authorities decided that St Brelade's Churchyard would be the final resting place for German forces who died on the Island and who were regarded as being worthy of honour.
There were a number of Germans who were executed for military offences in Jersey, and these men were buried at the Westmount Strangers' Cemetery in St Helier.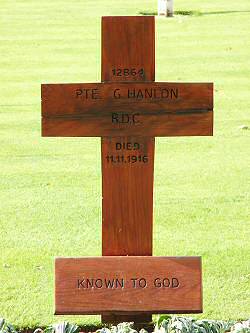 Private George Hanlon
351st Company, Royal Defence Corps
11/11/1916
He was born circa 1874 in Salford, Lancashire, the son of Thomas Hanlon. Husband of Ellen Reed.
Died of pneumonia whilst serving as a guard at Blanches Banques P.O.W Camp, Jersey, aged 42 years.
Resident of Sandown, Isle of Wight
Commonwealth War Graves Commission Record