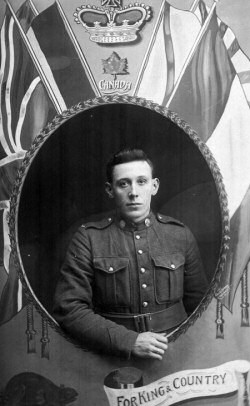 Thought to be Joseph Hernot
Picture courtesy of D Le Maistre

Private Joseph Hernot
5th Battalion, Canadian Infantry (Saskatchewan Regiment)
23/06/1917
Born at St Clement's, Jersey. The only son of French born Jeanne Marie Hernot (née Guégan) & the late Joseph Hernot of Jenkins Corner, St Lawrence, Jersey.
Killed in Action, aged 24 years
NEWS ITEM in Jersey Evening Post of Monday 2 July 1917
Roll of Honour
We regret to record the death which took place in action on 23 June of Private Joseph Hernot of the Canadian Expeditionary Force. This loyal soldier, who was 24, was the only son of Mr & Mrs Hernot of St Lawrence and left for the land of the Maple some 4 years ago. He joined up at the call of the Motherland and has now been called upon to make the supreme sacrifice. We tender the bereaved parents our sincere sympathy.
Commonwealth War Graves Commission Record