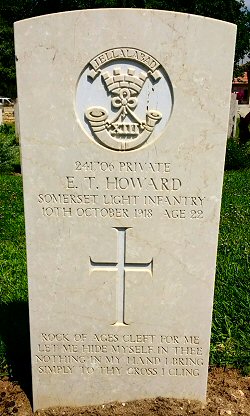 Private Edgar Thomas Howard
1st/5th Battalion, Somerset Light Infantry
10/10/1918

Eldest son of Edgar & Ada Howard of 52 Garden Lane, St Helier, Jersey.
One of two brothers who both fell. Brother of Private Robert Vernon Howard.

Died, aged 23 years
NEWS ITEM in Jersey Evening Post of Tuesday 15 October 1918
Roll of Honour. Yesterday we stated that Mr & Mrs E Howard of 52 Garden Lane had received news that their eldest son, Private E T Howard of the Somerset Light Infantry, was lying ill at Alexandria with malaria, and we now announce with sincere regret that the gallant lad passed away on 10 October. The deceased soldier was well known and greatly respected locally, he being employed at the GPO. He was transferred to Ilchester as postman and shortly after the outbreak of war joined the Somersets, with whom he travelled to India, later being transferred to the Egyptian theatre of war. He had been serving in this campaign for a couple of years and now, and, in the hour of victory, has unfortunately succumbed to disease. Much sympathy will be felt for the parents whose second son, Bob Howard of the Royal Army Medical Corps, was drowned when the Transylvania was torpedoed in the Mediterranean. We tender the bereaved family our heartfelt condolences.
(Photograph courtesy of Jared from Find-A-Grave.com)