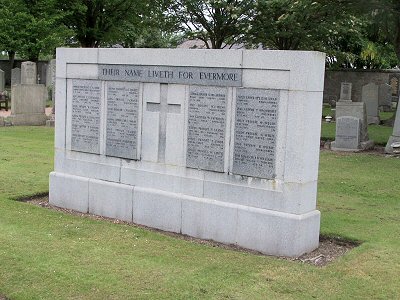 Aberdeen (Allenvale) Cemetery
Notice of Death appears in Jersey Evening Post of Thursday 6 September 1917
Commemorated on Halkett Place Primary School Memorial
Commonwealth War Graves Commission Record

Drummer Arthur Sidney Hutchings
3rd Battalion, Cameron Highlanders
05/09/1917
Born at St Helier, Jersey. Adoptred son of Thomas Hubert of 4 Nelson St, St Helier.
Died, aged 18 years.
NEWS ITEM in Jersey Evening Post of Thursday 6 September 1917
Young Jersey Soldier Dies Suddenly in Scotland. Another young soldier, who though under military age responded to the call of King and Country, has died suddenly in Scotland. The gallant lad, Arthur Hutchings, was the nephew of Mr Hubert of Nelson Street, he was a former Boy Scout and being keen on "doing his bit" joined the Cameron Highlanders in February last as a bugler. He was in Jersey only a few weeks back and was a very smart soldier. A few days ago a letter was received from him stating that he had been in hospital in Aberdeen for a slight operation to the throat, but was then convalescent, so that the relatives grief can be imagined when we state that they received a telegram yesterday stating that the lad had died yesterday morning. The late Drummer Hutchings would have been 18 in October and thus a promising career has been brought to an early close. No details have yet been received beyond the facts mentioned above, but we understand that the interment will be in Scotland. We tender the relatives our sincere sympathy.
Picture courtesy of TWGPP