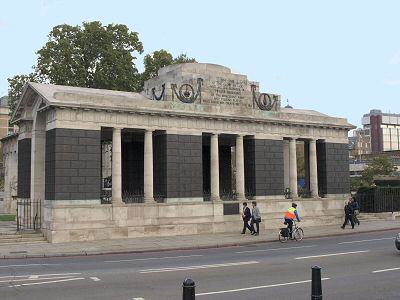 Tower Hill Mercantile Marine Memorial, London

Son of William John and the late Ann Elizebeth Jasper. Husband of Mabel Bessie Jasper (nee Bravis), of 37, Threefield Lane, Southampton. Born at St. Helier, Jersey.
Killed, aged 39 years.
********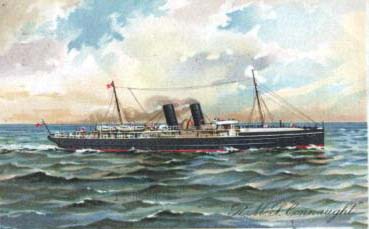 S.S. "Connaught" (Dublin). Twin screw steam ship built by Cammell Laird of Birkenhead, 2646 tons. In 1915 Connaught was commandeered by the War Office and put into service as a troop carrier.
On the 3rd March 1917, 29 miles S by W ½ W from Owers Light Vessel, she was torpedoed without warning and sunk by a submarine whilst sailing through the English Channel. Three lives were lost.
Henry Charles Jasper was born in 1877 at St Helier the son of William John and Ann Elizabeth Jasper who were both from St Helier. He and his brothers and sisters grew up at 14 St Journeaux Street, St Helier and later at 28 Providenast , his father was a Ships Rigger.

Unsurprisingly young Henry himself went away to sea in his teens and by 1901 was an experienced Able Seaman serving aboard the Allan Line's passenger steamer "Bavarian" on trooping duties to South Africa for the Boer War 1899-1902. Henry was promoted to Quarter Master and Coxswain of the "Bavarian" in March 1901 making repeated voyages to South Africa. In 1903 he started serving aboard the "Goorkha" initially as an AB but soon as QM making several voyages before returning to the normal nomadic life of a seaman of that age changing ships on a regular basis in order to progress. He began sailing as a Bosun in December 1904 and in 1910 landed a prized regular berth with Union Castle aboard their Royal Mail liner "Walmer Castle" where he quickly re-assumed the role of Quarter Master and Coxswain on the Cape Mail run. He had married Mabel Bessie Bravis by this point and settled in Southampton so a regular wage was required.
Commemorated on
Jersey Mercantile Marine Memorial at Jersey Maritime Museum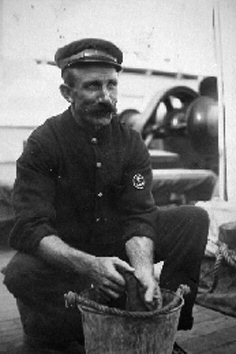 Able Seaman Henry Charles Jasper
Mercantile Marine S.S. "Connaught"
03/03/1917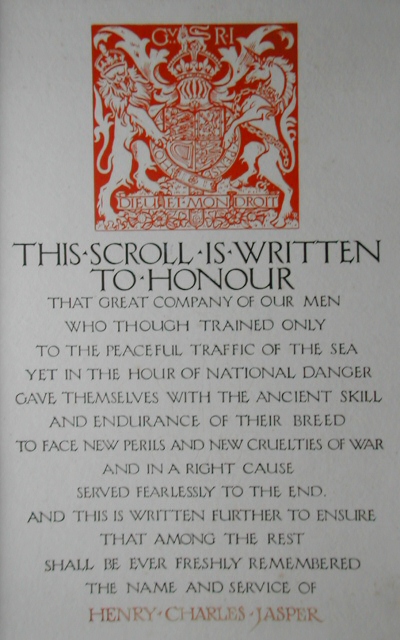 (Pictures courtesy of Peter Sharpe)
Henry Jasper remained at sea with the outbreak of war and served as Bosuns Mate aboard the "Kenilworth Castle" from Sep 1914 until Apr 1915 and then aboard the "Goorkha" again, by now a Hospital Ship, and then the Hospital Ship "Valdivia" in 1916. On 3rd March 1917 he was sailing as Able Seaman aboard the City of Dublin Steam Packet Co's "Connaught" when she was torpedoed and sunk by U48 on a voyage from Le Havre to Southampton on war service, Henry Jasper was amongst the dead.
Commonwealth War Graves Commission Record