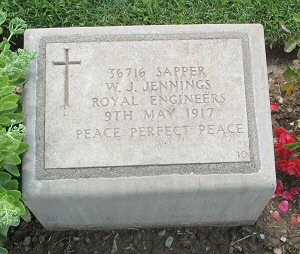 Sapper Wilfred John Jennings
108th Field Company, Royal Engineers
9/05/1917

Second son of Henry John & Ellen Mary Jennings of Salem House, St Lawrence, Jersey

Died of wounds, aged 22 years.

NEWS ITEM in Jersey Evening Post of Tuesday 29 May 1917
Roll of Honour. We regret to hear of the death of Sergeant W Jennings which occurred on 9 May in a military hospital in Salonika as the result of wounds received during the fighting on the Macedonian Front. The deceased soldier is the son of Mr & Mrs Jennings of Salem House, St Lawrence and he had seen no less than 22 months service. He had seen service in Egypt and was at the evacuation of Gallipoli, but within the past few months he had been employed on works of importance for the Army around Salonika. To the bereaved parents we would tender our respectful sympathy.
Photograph courtesy of THANOS FOTEINOS from Find-a-Grave.com