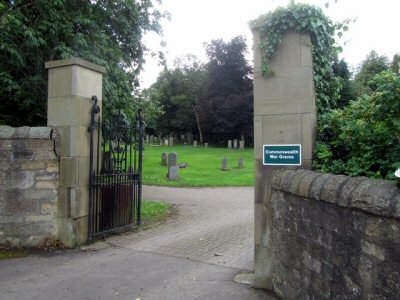 Edinburgh (Comeley Bank) Cemetery
NEWS ITEM in Jersey Evening Post of Monday 19 June 1916
Popular Jersey Sergeant in Grenade Accident - Hands Seriously Injured. The many friends of Sergeant Instructor Charles Jones of the Sportsman's Battalion, Royal Fusiliers, son of Mr & Mrs C Jones of Georgetown will regret to hear that the Sergeant has been seriously injured in a grenade accident. The accident occurred at Edinburgh and Sergeant Jones was immediately removed to Leith Hospital where he was operated upon. No details are to hand as to how the accident occurred but it was doubtless due to the premature explosion of a grenade, for it is stated that both the Instructor's hands were injured and although everything possible was done it is feared he will lose several fingers. We are pleased to hear that Sergeant Jones is progressing favourably and trust that no other ill-effects will ensue. It will be remembered that the Instructor was formerly a Sergeant in the Town Battalion and joined the Sportsman's Battalion about 12 months ago.
NEWS ITEM in Jersey Evening Post of Wednesday 22 November 1916
Popular Jersey Sergeant Accidentally Killed - Parents Tragic Information. Last evening Mr & Mrs C Jones of the , Georgetown, were shocked to receive a telegram regarding their son, Sergeant Instructor C Jones, stating that the funeral of their son was fixed for Thursday. Seeing that no other news had been received a wire was sent asking for further information and the reply unfortunately confirmed the previous telegram, stating that the Sergeant had been accidentally killed. Today an official letter from the War Office stated that the death took place on Saturday last, though no details are given. Peculiar sadness is added to the case by the fact that on Friday last Sergeant Jones was on leave in London and only returned to Scotland late that night, so that the shock the parents received can be better imagined than described, and we feel sure the sympathy of all our readers is extended to them and their family. Sergeant Charlie Jones, as he was popularly known, was formerly in the 3rd Battalion RMIJ and joined the Sportsman's Battalion in the Royal Fusiliers soon after the outbreak of war. He was a smart and efficient soldier and soon gained promotion in this crack Regiment and latterly had been Sergeant Instructor. Some months ago he was the victim of a grenade accident and lost several fingers on each hand, but after being confined to hospital in Scotland for some time he was able to visit Jersey on convalescent leave and apparently had regained his usual good health, and despite the injury to his hands, was able to resume his duties. We tender the family our sincere sympathy in their sorrow.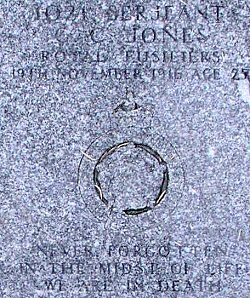 Sergeant Charles Cornwell Jones
106th Training Reserve (formerly 1021 20th Bn., Royal Fusiliers)
19/11/1916
Son of Charles and Hannah Cornwell Jones, of the Provision Stores, Georgetown, Jersey
Died, aged 27 years.
Remembered with four others on a single grave marker
Notice of Death appears in Jersey Evening Post of Thursday 23 November 1916

Commemorated on St Saviour's Parish Memorial, Jersey
(Picture courtesy of TWGP)
NEWS ITEM in Jersey Evening Post of Monday 26 October 1914
Loyal Jersey - More of its Sons Leave for Active Service. The number of young men who in response to Lord Kitchener's appeal are enlisting in the Army shows no sign of slackening locally. In fact there was a notable increase this morning when a number of Jerseymen left by the Mailboat to join the Regular Army. Amongst these was Sergeant C Jones of the RMIJ who is joining the Sportsman's Battalion.
Commonwealth War Graves Commission Record